The Alpha The Orginal Patio Cover Line
Our California Patio Cover Pro's Alpha Patio Cover Line provides an economical addition to almost any home. This line of patio covers offers a 8″ Flat Pan, or a 24″ Twin V Pan to accommodate any Southern California home style. These handsome patio covers not only provide a shaded, cool place, to enjoy the outdoors, but also keeps your home noticeably more comfortable while protecting it from the heat and cold. Therefore, if you're looking to meet the need of adding space while watching your budget, the Alpha Patio Cover Line provides an open and airy retreat for you to entertain family and friends, or to relax after a long day.
Standard Features:
-Energy Star, IAPMO, ICC, FBH, UL, AAMA & NFRC evaluated patio cover systems are tested and scrutinized by 3rd party evaluation labs and governmental and state agencies, and pass with flying colors, unmatched in testing and performance. -Available in Curved eave or Straight eave and come in affordable Smart 30 single glass and also high performance Smart 90 dual glass. -Patented Wheatherguard solid insulated patio covers: available in 3", 4" and 6" thickness allowing for longer spans and greater insulation, another C-Thru exclusive. -Duralite Glass comes standard on all glass patio covers and is nearly unbreakable. Another C-Thru exclusive. -Futurewood is a revolutionary wood substitute that unlike wood will not rot, chip, split, splinter or burn and isn't susceptible to termites or any kind of wood destroying insects.
8″ Flat Pan
The 8″ flat pan roof is another one of our products that we have been producing since we originally designed the structural pan roofs in the 1960s. Think of the flat pan roof as a structural standing seam roof system. It's design helps prevent leaks while being structurally sound. Due to its single skin roof system, insulation is very low. Even though it isn't designed to hold the weight of a person, it's strong enough to stand most weather conditions. This is one of our most economical roof systems we offer. If you're looking for a screen room or seasonal usage only room then the flat pan might be the ideal roof for you. It comes in several different gauges of aluminum from .018 to .038 thick to handle most heavy snow loads.
24 "Twin V Pan
"V" Pan patio covers are a decorative affordable design while offering equal protection. Our V-Pan patio covers use a aluminum extrusion. Providing strength and stability to span great lengths and provide great protection. C-Thru's V Pan patio covers are manufactured with high quality baked enamel aluminum for years of maintenance free enjoyment.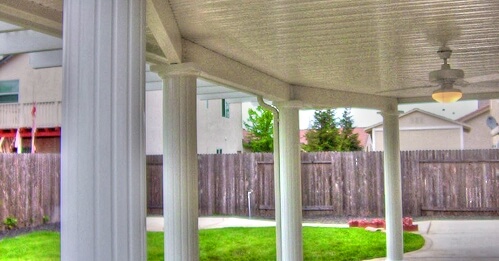 Contact Us
877-891-7363
Want to come see one of our showrooms, get a free estimate or have a design question please contact us here. We are open 9:00 am to 9:00 pm Mon – Sunday for your convenience
Only Factory Trained Estimators ( Not Salesmen ) will leave with you Multiple Free Estimates, Brochures, Design Layouts and Answer All of Your Questions. Free In Home Estimates are Available 7 Days a Week & take 20 to 30 Minutes