The Omega Line The Ultimate Patio Cover Line
The Omega Patio Cover Line administers charming characteristics and true class to your home. Astonishing and brilliant, these patio covers provide the option of our solid insulated roof, glass roof, or our Patio Cover lattice cover. They not only provide style and beauty, but keep you and your family protected from the heat and cold. So, whether you're trying to find your shaded getaway to entertain family and friends or protect loved ones, let Omega patio covers keep you comfortable through the seasons.
Standard Features:
-Energy Star, IAPMO, ICC, FBH, UL, AAMA & NFRC evaluated patio cover systems are tested and scrutinized by 3rd party evaluation labs and governmental and state agencies, and pass with flying colors, unmatched in testing and performance. -Available in Curved eave or Straight eave and come in affordable Smart 30 single glass and also high performance Smart 90 dual glass. -Patented Wheatherguard solid insulated patio covers: available in 3", 4" and 6" thickness allowing for longer spans and greater insulation, another C-Thru exclusive. -Duralite Glass comes standard on all glass patio covers and is nearly unbreakable. Another C-Thru exclusive. -Futurewood is a revolutionary wood substitute that unlike wood will not rot, chip, split, splinter or burn and isn't susceptible to termites or any kind of wood destroying insects.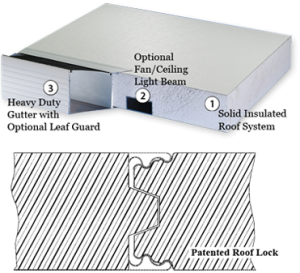 Solid Insulated Roof
The WeatherGuard structural insulated roof system is Patio Cover Pros own exclusive roof system. This patented roof system comes available in 3″, 4″ and 6″ thick roofs allowing you to design your sunroom for your particular weather climate. Whether it's hot and sunny most of the time or if the deep snows of winter are your concern, our WeatherGuard roof is your solution. When it comes to elegance no one can beat our WeatherGuard roof system's great looks. Because unlike most other industry standard roofs, C-Thru's roof has a patented snap locking system (joining the roof panels together) eliminating exposed screws and unattractive obstructions in the ceiling. Our exclusive patented snap locking system designed with internal weep channels helps prevent unwanted water from leaking in to your room. Making it hands down the industries most sate-of-the-art system.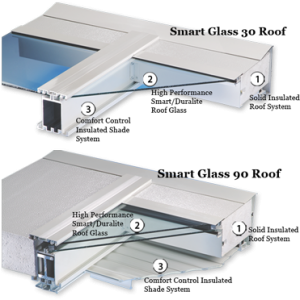 Glass Roof
Patio Cover Pros glass roof system was designed over 25 years ago. Since then it has been continually refined. Over the years we have implemented the latest in glass technology making our sunroom glass roofs excellent when insulating against solar heat. This allows our sunrooms to be more comfortable any time of the year or day. It is considered to be the best roof system of its kind by our competitors. Of course the beauty of the C-Thru glass sunrooms are unmatched, but what you don't see is our intricate design details. For example, the internal weep system keeps any unwanted water from leaking into your sunroom. We even offer optional internal stiffeners that allows you to have a large room without the need of beams and posts inside your living area. Our glass roof is available in the Classic curved eave or the traditional straight eave style..
Lattice Cover
A lattice patio cover adds unique beauty to any home or outdoor living space. Our lattice covers are crafted out of durable materials and designed to withstand the harsh outdoors. They require little maintenance, and will not crack, warp, or split. The result is a lattice patio cover that is beautiful from the moment they are installed and remain that way for years to come.

SmartGlass
Other than the framing and solid insulated areas, a sunroom is made almost of all glass. With this in mind, glass is one of the most important features to choose correctly when designing your new sunroom. C-Thru offers five unique glass options in its proprietary SmartGlass ™ line. Starting with the SmartGlass 30, it's our most economical option. This is a single pane glass with the least amount of insulation. Our more energy efficient glass option is our SmartGlass 60. This dual pane high performance Lo-E glass is considered to be the "Best Value" when taking insulating abilities and cost into account. However you chose is yours, scroll down the page to learn more about what Smart Glass package will work best for

Duralite
Safety is also a paramount concern when surrounded by so much glass. Patio Cover Pros exclusive DuraLite™ Glass is 8 times stronger than standard residential glass and is strong enough to withstand impacts without breaking or scratching. DuraLite glass is stronger than laminated and safety glass to protect against accidental breakage. Duralite is standard on all rooms on both single and dual pane windows.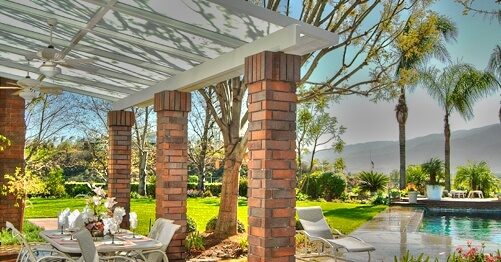 Contact Us
877-891-7363
Want to come see one of our showrooms, get a free estimate or have a design question please contact us here. We are open 9:00 am to 9:00 pm Mon – Sunday for your convenience
Only Factory Trained Estimators ( Not Salesmen ) will leave with you Multiple Free Estimates, Brochures, Design Layouts and Answer All of Your Questions. Free In Home Estimates are Available 7 Days a Week & take 20 to 30 Minutes